January 2021
COVID19 pandemic prompts Suffolk Law Centre to expand its support
Suffolk's highly-acclaimed legal advice centre has announced the establishment of a new service aimed at assisting elderly residents and their families to access the right support.
Based in St Matthews' Street, Ipswich and co-located with its sister organisation, Ipswich and Suffolk Council for Racial Equality, the Suffolk Law Centre (SLC) was established in April 2018 after a successful crowdfunding campaign.
The Centre provides free advice in key legal areas, including employment, housing, family and personal injury, as well as legal casework in discrimination.
Since its launch, SLC comprising both staff and volunteers, has helped hundreds of local people tackle their legal challenges – a vital service given the massive reductions in Legal Aid support over the last few years.
The launch of its new wills, probate and elder care clinic this month is a direct response to the growth in demand the SLC has experienced over the last year for pro bono advice in these specific legal areas.
Audrey Ludwig, SLC's legal director explained the new service: "Wherever possible, the SLC seeks to deploy its limited resources to meet the needs of the county's residents experiencing the greatest need.
"The pandemic of 2020 has significantly changed many lives and we have been approached by those in need, seeking advice on Wills and Probate, as well as related issues.  We have also seen an increase in requests and the need for elder care legal advice during this time."
The new service offers 30-minute free legal consultations with SLC's experienced, volunteer lawyers from a range of law firms including Ashtons Legal, Barker Gotelee and Prettys. These specialists can advise on issues such as probate and the administration of estates, paying for elder care, applications to the Court of Protection, will and probate disputes and claims under the Inheritance (Provision for Family and Dependents) Act 1975 and information on Lasting Powers of Attorney.
Janette Wand, senior associate in the lifetime planning team at Ashtons Legal said: "We think it is important for our community to have a local source of free initial advice on issues like Wills, Powers of Attorney and Inheritance. They are topics which have an effect on everyone and which can cause tensions and worries within families. If we can help out and point people in the right direction, then we think that is time well spent."
However, the SLC clinic cannot advise on writing wills, drafting Lasting Powers of Attorney or tax planning.
Audrey added: "It can be very stressful dealing with the death, sickness or incapacity of an elder family member and our volunteer advisors are able to provide advice and assistance to help you to understand your options and be better able to make informed decisions.   While we cannot prepare your documents for you, our advisors are specialists during your free 30-minute consultation can give you advice on your legal issues that could save you and your family significant time and expense."
December 2017
This briefing is produced by our implementation team: Matthew Howgate, our consultant; Audrey Ludwig & Sue Wardell.

Brrrrr…it's got a bit chilly since our last Briefing, but everything is warm and toasty here, because we are basking in the golden glow of good news!
Activity Update:
Audrey and Chris Cumberbatch (our Chair) attended the Law Centres Network conference on November 9th-10th, and caused a mini social media storm with the news of our acceptance as a member of LCN. We can now call ourselves Suffolk Law Centre! We are really looking forward to closer working with the Law Centres Network – a cohort of wonderful people, committed to access to justice! (N.B. For those of you who follow us on Twitter, Audrey hasn't stopped smiling yet…)
Our Legal Advice Open Day on November 8th as part of National Pro Bono Week, was a great success – our wonderful volunteer lawyers advised 20 clients, and we had people dropping in throughout the day. Plus, we raised over £160 towards A Law Centre for Suffolk, and enjoyed the company of our friends at Ipswich Community Media, Ipswich Disability Advice Bureau, Ipswich Housing Action Group and Suffolk Rape Crisis. Oh, and ate lots of delicious cake!
More great news: our vibrant, fantastic Law Advice Clinic was shortlisted for a national Law Society award: Best Pro Bono Partnership! Whilst we didn't win, we were the only initiative outside of London to make the shortlist, so that's an encouraging recognition; take a bow, volunteer lawyers – you are amazing!
We are making slow but steady progress in our registration with the Charities Commission – we are not expecting to be set up as a registered official entity until next year now, but we are moving in the right direction.
Given the above and the considerably faster pace at which we are now hurtling towards Christmas and the end of the year, we have decided to delay Suffolk Law Centre's launch event to early next year. So, something fabulous to look forward to in 2018.
Please keep the evening of Thursday March 1st clear in your diaries! Further details re: time and venue to follow.
Funding Update:
Whoop! Our A Law Centre for Suffolk Crowdfunder raised,….(drum roll, please)……..£9, 506.84!!! That's with Gift Aid, the proceeds from our Open Day and the fantastic fundraising activities by Birketts and EA Chambers.
Thank you so much to everyone who has donated
We have had some excellent press coverage in the East Anglian Daily Times and Ipswich Star which has really helped to promote the campaign
We have also had some very generous donations, including £1000 each from Birketts Solicitors, East Anglian Chambers and the Suffolk branch of UNITE – once again, thank you for your support.
The Crowdfunder ended on 1st December, but we are still fundraising! We aim to reach that £40,000 total in time for our official launch.
Please see here to find more details on how to donate, as well as regular news updates.
We will soon be setting up a standing order facility to allow people to donate on a regular basis, but donations can also be made by cheque (payable to ISCRE), or BACS payments (CAF Bank Sort Code 40-52-40 Account No. 00016097), or cash at ISCRE's office.
STOP PRESS!
Have you seen our beautiful A Law Centre for Suffolk Christmas cards, designed by lawyer and artist Anthony Wooding? If you would like to buy some cards, please get in touch with Sue at ALawCentreforSuffolk@iscre.org.uk – while we still have some left!
They are for sale at ISCRE's office at the bargain price of 5 cards for £5.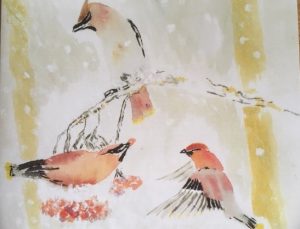 Next Meeting of the Advisory Panel
Our next meeting will be on Wednesday 31st January, at 5pm.
Please rsvp to let us know how many people to expect: ALawCentreforSuffolk@iscre.org.uk
If you have any questions, ideas or just want to get in touch, please contact us at the email address above, or call: 01473 408111, and ask to speak to Audrey or Sue.
Lastly, we want to thank everyone for being so supportive of our campaign for access to justice in Suffolk. You are all #accesstojusticeheroes.
We wish you a happy Christmas and a splendid New Year.