ISCRE legal chief celebrates ten years "working with and for some amazing people!"
Audrey Ludwig celebrated clocking up a full decade working at Suffolk's leading civil rights charity last night (6th December) at a party held in her honour at Manor Ballroom, Ipswich.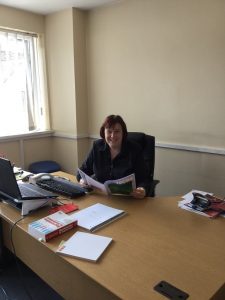 Audrey is currently the legal director at the Ipswich & Suffolk Council for Racial Equality having started off in 2006 as a part-time race equality officer.
In that time, Audrey and her small team having been supported by the efforts of many volunteer lawyers who have provided their knowledge and skills for free to help hundreds of Suffolk people suffering unlawful discrimination.
Audrey explained that "we are united by working hard for equality, access to justice, giving everyone the chance to be heard and the prevention of all type of unlawful discrimination. We take our advice, discussions, workshops, awareness raising events and community reference groups to schools, universities, prisons, advice centres, places of worship, town and village halls all over Suffolk."
In 2015-16 just two of ISCRE's projects – the Suffolk Law Advice Centre and Tackling Discrimination in the East, which has an outreach presence in both the west and north of the county, helped more than 540 people with free legal advice and representation.
Audrey reflected on the present challenges facing ISCRE compared to a decade ago.
"Our county had changed over the last 10 years with people coming to Suffolk from other parts of the UK and from around the world, including the EU. Our EU- funded Living Rights Project is giving information to new EU migrants on rights and responsibilities. The Brexit decision has led to a lot of uncertainty, a rise in hate crime and a massive increase in requests for information about rights to permanent residence.
"We are laying on extra advice sessions and planning a conference on 25 January 2917 to reassure valued EU workers about this county's continued need for and support of EU workers in food production."
Chris Cumberbatch, ISCRE's chair of trustees praised Audrey's achievements and example "Audrey represents the very ethos of our charity when it was founded nearly 40 years ago. She is a wise, hard-working and supportive presence for those whose lives are being made a misery, whether at work or in their communities, by any type of discrimination.
"We are all so proud of her and thankful to her."