*Stop Press -We are now launching our new 3Ds leaflet regarding Universal Credit at ISCRE AGM on 19th September 2019 *
 In what is believed to be the first initiative of its kind in the country, a partnership of Suffolk organizations launched a guide aimed at ensuring fair treatment for citizens with disabilities or with long-term sicknesses who are also claiming Jobseekers Allowance (JSA).
The guide is the result of the Ipswich & Suffolk Council for Racial Equality (ISCRE) and Citizens Advice Ipswich coming together to form the '3Ds' Project.
The '3Ds' in question are: Disability + Disadvantage = Duty.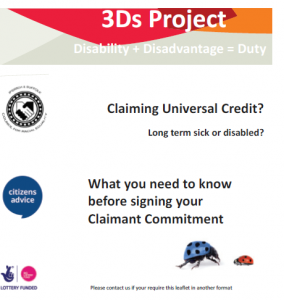 This partnership was formed after ISCRE had identified problems being experienced by disabled or long term sick JSA claimants in looking for work because of their disability.
Because of this, many were being 'sanctioned' (losing benefits) for not complying with their job seekers agreements. Nationwide, the number of claimants sanctioned had increased by 64% with one in four of these identified as being disabled or long term sick. A total of 11% of JSA claimants in the East of England had been sanctioned.
Under the Equality Act 2010, the Department for Work & Pensions (DWP) has a duty to make reasonable adjustments for disabled or long term sick claimants to overcome difficulties that are not faced by people who are not disabled.
The leaflet is aimed at both DWP staff and the jobseekers and their friends and family. It defines the meaning of disabled under the Equality Act, explains the legal duty of the DWP and includes a tear-off form for claimants to take to the job centre explaining their disability and any reasonable adjustments that should be made to their job seekers agreement.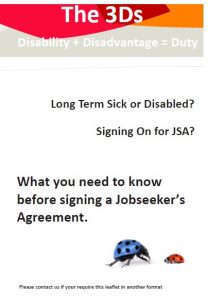 According to ISCRE's Legal Director, Audrey Ludwig "the Equality Act helps people with disabilities get changes to policies and practices to overcome their disabilities and therefore fully participate in society. The leaflet informs and reminds Job Centre Plus of their duty to make reasonable adjustments to job seeking agreements. Many changes carry no costs like changing the timing of appointments but can prevent the claimants having their benefits stopped unjustly and suffering real financial hardship".
Deputy Manager of Citizens Advice Ipswich, Nelleke van Helfteren, championed this project from the start: "we are very grateful to the Suffolk Foundation and the Vineyard Church who both awarded us funding for this very worthwhile project. We are so pleased to be working with other agencies in Ipswich on behalf of these vulnerable clients who suffer real financial hardship when their benefits are sanctioned through no fault of their own"