The team behind the county's recently-launched law centre is celebrating this week with the news that they have recruited a housing law expert. This additional member of staff ensures that the centre can provide a much needed service to Suffolk residents facing eviction or dealing with day-to-day problems with their landlords.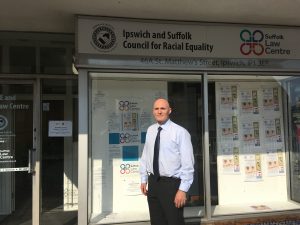 Paul McManus is Suffolk Law Centre's new housing caseworker. Paul has been a housing supervising solicitor at South West London Law Centre for a number of years and so has both the experience and the required legal qualifications to fulfil such an important role.
Based in St Matthews' Street, Ipswich and co-located with Ipswich and Suffolk Council for Racial Equality, the Suffolk Law Centre was established on 1 April after a successful crowdfunding campaign that raised over £40,000 to set it up. The Centre provides free advice and casework to residents who otherwise would be unable to afford legal representation.
Since then the team, comprising both staff and volunteers, has helped dozens of local people tackle their legal challenges, especially in the areas of family, employment and immigration law.
According to Audrey Ludwig, legal director at ISCRE and head of the Suffolk Law Centre: "there is a national shortage of housing legal aid supervisors, so we are doubly delighted to have recruited Paul. His knowledge and experience mean we can now offer a full service of legal aid support to the people of Suffolk."
"The Suffolk Law Centre goes from strength-to-strength. In addition, to Paul we interviewed three other applicants for this particular post, two of whom have offered to help out on a voluntary basis, which is truly great news."
Paul McManus explained his reasons for joining Suffolk Law Centre: "I am delighted to have joined the team at Suffolk Law Centre and am looking forward to helping people in the area secure the roofs over their heads.
"For too long people in this area who qualify for Legal Aid have been denied assistance because there were no legal practices who offer the specialist type of housing advice they need.
"Suffolk Law Centre is now able to help those who are homeless or threatened with homelessness in and around the county."
The Suffolk Law Centre is part of the ISCRE family of initiatives which also includes Tackling Discrimination in the East, the Living Rights Project and the Stop and Search Reference Group.