A report into improving access to higher education among Suffolk's diverse communities has been published by the county's leading civil rights charity.
The report shows that families who have recently arrived in the county struggle the most to make informed decisions around the educational opportunities that are open to their children. The manifestos represent the voices of these marginalised communities who are often the least listened to.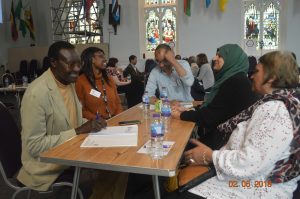 The Ipswich & Suffolk Council for Racial Equality (ISCRE) report – "It Takes a Village To Raise a Child" – is based on a series of one-to-one interviews and conversations with black and minority ethnic community members held at a sharing event earlier in the year. The research project was funded by The Network of East Anglian Collaborative Outreach (neaco) as part of the Take Your Place programme, which supports young people from target areas in their progression to higher education.
The report demonstrates that recently settled groups, including those from Eastern European and the Roma communities, face the greatest barriers to higher education., Other longer established groups also reported problems in accessing information about higher educational pathways.
The reasons for this are varied, but include a lack of community networks, certain cultural practices and assumptions and the lack of positive role models.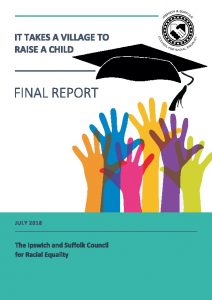 Phanuel Mutumburi, ISCRE's Business and Operations Director explained "In collaboration with parents and families, we have co-produced a number of Manifestos for Educational Inclusion. There are three manifestos – one for schools, one for colleges and universities, and for parents and families."
"Each manifesto is a practical call to action to ensure that every child in the county is able to reach their full educational potential. The outcomes can only improve both the life chances of the children and young adults in the local communities and the future prosperity of Suffolk."
"We are asking all primary and secondary schools, colleges and universities in Suffolk to sign up to their respective manifestos and implement the necessary changes to ensure a culture of total inclusion and support for all pupils."
Polly Bridgman, Director of External Relations at the University of Suffolk said, "The University of Suffolk was established to help increase and widen participation into higher education in Suffolk. We welcome the manifesto and will use it to strengthen and expand our widening participation activity with black and minority ethnic communities in Suffolk and beyond."
Tom Levinson, neaco Project Manager at the University of Cambridge, said "Key to neaco's approach is collaboration with local organisations, to engage audiences who might not first believe higher education is open to them, then provide responsive, relevant solutions that complement their lives and communities in and outside of education."
"The findings and recommendations in ISCRE's report are an invaluable demonstration of the need for these voices to be heard. The recommendations provide us with an important next step in the conversation between our institutions and our target communities, to effect sustainable change and ensure our region's young people can fulfil their potential."
ISCRE will publicly launch the report at their AGM on 18 September at the University of Suffolk, from 6:30pm. Find details of the public event here >>
A full copy of the report is available to access here >>
You can find out more about neaco at www.takeyourplace.ac.uk