Nearly 150 people from across Suffolk attended one of the biggest AGMs for many years of the county's leading civil rights organisation.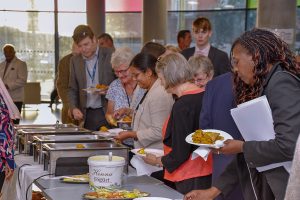 The recent Ipswich and Suffolk Council for Racial Equality (ISCRE) AGM, held at the University of Suffolk, saw a packed audience enjoying a range of food from different traditions, live music from an Ipswich School and a range of inspiring speakers who focussed on the message that discrimination of any type was both wrong and could be overcome.
After enjoying a freshly cooked meal courtesy of Ipswich restaurants, Passage to India and Ararat, the meeting was chaired by the deputy mayor of Ipswich, Councillor Sarah Barber.
Sarah introduced pupils from Northgate High School who presented their film entitled "I'm Only Human After All, Don't Put the Blame on Me". This was a montage of heartfelt testimonies by them about their cultural heritage and experiences of moving to the UK.  The film reflected what hindered and helped the Pupils and their loved ones settle in a new country.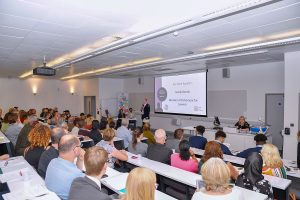 The AGM heard from three inspiring speakers: Ipswich MP Sandy Martin, Piers Harrison-Reid, a performance poet, spoken word artist and leading employment barrister, Susan Belgrave.
Sandy Martin explained his two decades' long association with ISCRE and outlined the current national issues that have commanded the energies of MPs in recent months, including the Windrush Scandal debate, international injustice, the terrible situation in Syria, and how Brexit is a danger to people's human rights and austerity.
Sandy commended the work of ISCRE and the recently-launched Suffolk Law Centre, stating that he is delighted that ISCRE is doing well and how wonderful it was for the Law Centre to be up and running.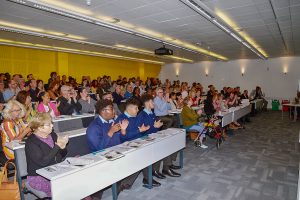 Piers Harrison-Reid, a performance poet, spoken word artist, live literature entrepreneur and A & E nurse in Norwich, read his poem to the NHS entitled "Love Is for the Brave".  He explained that he had moved from Sheffield to Suffolk and has found that Sheffield was more ethically balanced.  He also read his poem entitled "Kintsugi" which is the Japanese art form of remaking broken bowls.  He explained that that when you look at something that breaks, this should not be look upon as a negative.
Susan Belgrave praised the work that law centres, including the Suffolk Law Centre, are doing in advising and supporting many people who without such assistance would be left homeless, without their benefits or without compensations for loss of employment rights.  Susan spoke about how law centres reflect a diverse make up as the work reflects on the wider population with individuals from all ethnicities, religions and backgrounds.
Phanuel Mutumburi presented launch of a report called It Takes A Village to Raise A Child, into improving access to higher education among some the county's newer communities.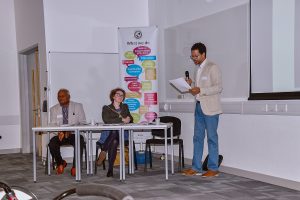 The research that led to the report was funded by the Network for East Anglian Collaborative Outreach (neaco) through its Take Your Place programme, to engage with parents and families in Ipswich from  communities underrepresented in Higher Education.
Chris Cumberbatch, chair of ISCRE's trustees, said: "the sheer number of attendees, speakers and initiatives at this AGM shows that ISCRE and the Suffolk Law Centre have a relevance to more people than ever before. The AGM was uplifting and inspiring, but it also underlined the scale of the challenge we still face to eliminate illegal discrimination from Suffolk."