At its packed Annual General Meeting yesterday (10 September), the Ipswich & Suffolk Council for Racial Equality (ISCRE) launched its new five-year strategy aimed at improving equal treatment for all and improved social cohesion and securing the county's position as the best place in the future to live and work in the country.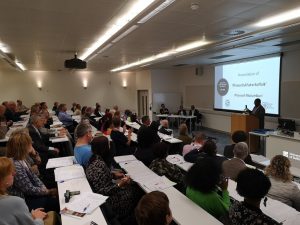 Over 100 people heard from ISCRE's business and operations director, Phanuel Mutumburi, as he launched "Towards a Fairer Suffolk" and called on all communities in the county to come together and help shape the scheme's manifesto and objectives between now and 2024.
Phanuel said: "In many respects, this means ISCRE returning to its early campaigning days, going back to our basics if you like, in the 1970s due to two quite distinct issues".
Founded in 1977, ISCRE is one of the country's most enduring and successful rights-based charities.
"Firstly, thanks to the successful launch of our sister organisation, the Suffolk Law Centre, which is successfully taking on cases of unlawful discrimination, ISCRE is no longer directly involved in such day-to-day work" outlined Phanuel.
"Secondly, and much more negatively, in recent years many minority communities in Suffolk have been telling us about their experiences of racist bullying in schools and hate crimes on the streets.
"Stop and Search by the Police in Suffolk has one of the highest rates of disproportionality in the country – in 2016-17, as black people were 14 times more likely to be stopped and searched than white people. We have also seen a changing demographic across the county, particularly in urban areas such as Ipswich, which is estimated to have the second highest Roma community in the country – a vulnerable group with low literacy and poor access to services."
ISCRE is also using evidence collected as part of the 2016, 'Hidden Needs' survey conducted by the Suffolk Community Foundation.
This report revealed the range of issues, often extensive and hidden, that cause hardship and deprivation in Suffolk – the 8th largest, and one of the most rural counties in England.
Almost 40% of Suffolk's population lives in a rural area, and in some parts as many as 75%. Between 2010 and 2015, only three other local authorities in England experienced a greater increase in deprivation than Suffolk. Rural barriers such as poor transport and infrastructure increase hardship for people on low incomes.
Phanuel explained to the charity's AGM, held at the University of Suffolk, why these two factors have prompted a pivot in ISCRE's approach to a more campaigns and educational-based approach than in recent years.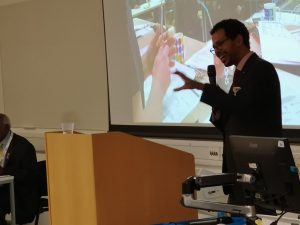 Chris Cumberbatch, chair of ISCRE's board of trustees, said: "What makes 'Towards a Fairer Suffolk' different is that whilst we have identified the challenges facing the county's many different communities, we are actively looking to engage with them to identify ways of addressing these issues.
"So as a starting point, we are asking some key questions such as what would a Fairer Suffolk look like and what needs to be done to ensure that the county is a fairer place to live and work for all."
Phanuel Mutumburi added: "The needs and opportunities of the moment require ISCRE to change its approach – we hope to engage with thousands upon thousands of Suffolk people to deliver it."
Individuals and community groups are being encouraged to find out more information about 'Towards a Fairer Suffolk' and to give their views by contacting ISCRE on phanuel@iscre.org.uk
Other speakers at ISCRE's AGM included Julie Bishop, director of Law Centres Network and Hamil Clarke, Suffolk Law Centre chair. There also a range of food and exciting performances by young people from across Suffolk.