The Suffolk Law Advice Centre which provides free legal advice to residents across Suffolk is looking for sponsors to help it raise much-needed funds as its staff, volunteers and supporters join the fourth Ipswich Legal Walk on Monday June 26th.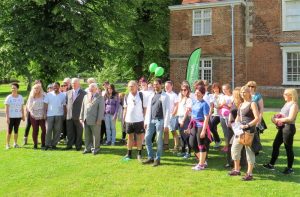 The walk starts at 5:30pm that day, gathering at the front of Christchurch Mansion, and is 10km long, taking walkers around the parks and streets of Ipswich.
 The Legal Walk has been an annual event in Ipswich since 2014. This is an enjoyable, healthy fundraiser for staff and supporters from local legal firms and practices, as well as family and friends – encouraging people who are often office/desk based to get out and exercise together after work, on a route that travels through some of Ipswich's loveliest parks and streets!
 It is one of many legal walks that take place around the country – set up by the London Legal Support Trust and supported locally by the Eastern Legal Support Trust – monies all going to support free legal advice projects in our region, such as the Suffolk Law Advice Centre, run by ISCRE.
 The Suffolk Law Advice Centre at ISCRE offers 30 minutes free legal advice from our fantastic volunteer legal professionals for anyone who lives or works in Suffolk. We now have over 70 solicitors and barristers who give up their time and expertise, to assist those who cannot afford or access legal advice or justice. We provide an average of 44 free sessions each month, reaching many of the vulnerable and disadvantaged communities in Suffolk. We run specialist clinics providing advice about housing law, employment law, family law, immigration law, and personal injury law as well as two general legal advice clinics.
 Our service is in huge demand and the family and immigration clinics often get booked up 2-3 months in advance. Last year we advised 421 clients at these sessions.
 Organised by Eastern Legal Support Trust and Suffolk Law Advice Centre (LAC), which is run by the Ipswich & Suffolk Council for Racial Equality, all proceeds from the walk will go to support projects aimed at providing free basic legal advice for people in Suffolk who cannot afford the cost of a lawyer.
Click here for more details >>