It is National Volunteers Week! – At ISCRE and Suffolk Law Centre, we are very lucky to benefit from some amazing volunteers. In fact, without them we wouldn't be able to do even half of the work we do. So, we are very happy to celebrate volunteers. We have been chatting to a few of them about the work they do for us, what brought them to volunteer with us, and what they get up to in their spare time.
We will feature different volunteers each day this week, Monday – Friday.
Over to you, volunteers! #VolunteerWeek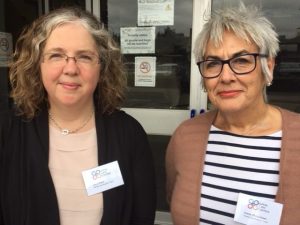 Carole Parry-Jones: a passionate appeal for more volunteers.
I've been a Family Law Barrister for many years and was part of a team from Chambers who volunteered at ISCRE's legal advice clinic on Thursday evenings. When I retired from the Bar, I thought I would carry on volunteering at the law centre. I knew the overwhelming need for people to have access to good independent legal advice, and to understand something about what goes on in court. Access to legal aid in family cases was withdrawn in 2012. So, any parent who wishes to take issue with their child's other parent now has to do so without any legal support, unless they can afford to pay for it. In Suffolk, that represents over 75% of family cases, and it's a very worrying statistic. It not only adds further strain on the people involved, it also has a huge impact on the running of the courts. And many people do not know that going to court to resolve their problems is not the only, or necessarily the best, option. It should be the last resort. The chance to talk with a lawyer can often help someone to find a strategy for moving their situation forward.
From my point of view, volunteering to cover the family law offer at Suffolk Law Centre is absolutely vital, because the children of today are tomorrow's parents. People often fail to fully understand that one of the fundamental human rights, the right to a private family life, can be compromised by not having access to good independent legal advice. The other great problem that we have in Suffolk, and it's a nationwide problem, is the increasing difficulty that people have in accessing a solicitor. There are so few family solicitors now – and there are even fewer who will take on legal aid cases, hence the need for yet more legally trained volunteers to give their time to Suffolk Law Centre. We need you!
I want to help expand the centre's ability to offer people an appointment more quickly, hopefully within 2 weeks of them making contact, but we need more trained family lawyers to do that.
We also need more legal volunteers to help the law centre set up some kind of mobile advice facility. We are based in Ipswich, and most of the time we need people to come to us, which means that we are perhaps denying access to legal advice to people who cannot travel. I question how universal access to justice can be achieved in a county like Suffolk, with its appalling transport links, and with only one family court in the whole county. If you live in Lowestoft, you have to catch a train at 06:30am, in order to get to court for 09:00! If you're lucky, the Lowestoft line is running on time…..!
If we had the funds and the technical capacity, we could do interviews by Skype or FaceTime, or use WhatsApp, but like all Law Centres, we are dependent on charitable grants. Another way to volunteer at Suffolk Law Centre is to share your technical expertise, and help us set up these systems. And if you are a computer firm, that has loads of computers and you upgrade them every year, why not offer them to us?!
I do find it quite difficult to turn my mind off from the law – it has been a part of my life for so long, and I do feel passionate about it. But, when I do have spare time, I am a keen gardener, and one of the benefits of retiring from the Bar is that I have forgotten what living a normal life is like. I don't have to get up at the crack of dawn, I do not have to drive for hours to get to court, and I don't have to spend every evening and most of every weekend preparing for my next case. So, what do I like doing in my spare time? I like living a normal life! And the garden is looking wonderful!