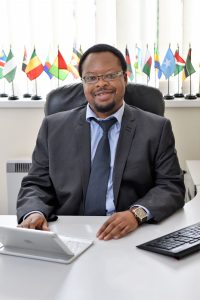 Phanuel Mutumburi, business and operations director at the Ipswich and Suffolk Council for Racial Equality (ISCRE), looks at how vital it is that in 2021 community and health leaders work together to make life better and more equal for the county's BAME community.
2020 was a traumatic year for many and a challenging one for most.
The impact of the Covid-19 pandemic has exposed the considerable inequalities in our society which have been partially hidden – or ignored – for decades and more. The disproportionate impact of the virus, in terms of infection and mortality rates on certain groups, including many within the broad definition of Black, Asian & Minority Ethnic (BAME), has been comprehensively shown across many reputable studies.
The precise reasons for this disproportionality are various and interlocking, combining underlying causes such as societal inequalities, from the food and exercise people have access to, the level of education, employment, housing, healthcare and economic resources within different communities.
But for the Ipswich & Suffolk Council for Racial Equality (ISCRE) this quickly became a matter that required not just analysis but action as well.
ISCRE is well-used to constructively challenging public and voluntary sector organisations to ensure that the way they deliver their services does not diminish the involvement of, or outright exclude, BAME communities. Too often in our experience in the past, councils, the Police and health bodies have at times failed to treat their BAME users with equal importance, compared with other groups.
Yet, Suffolk and ISCRE starts from a comparatively good position in this regard because of the overall positive reception our concerns have received from most public and voluntary sector organisations.
That is why we launched the #WhatAreWeMissing? campaign during the first lockdown. This is a community led initiative which is bringing together the BAME communities of Suffolk and surrounding areas, with leaders and mainstream service providers.
The aim, quite simply, is to come together and develop innovative solutions to once-and-for-all address inequalities exposed by Covid-19. The first and crucial stage is for BAME voices to do the talking, with the professionals doing the listening. This in itself is a revolutionary and up-ending approach. It is light years away from discredited 'consultations'.
Working in partnership with the Ipswich and East Suffolk Clinical Commissioning Group (IESCCG), we have presented to and challenged various groups to put diversity and inclusion at the core of what they do and to evidence initiatives they are doing to achieve a fairer Suffolk.
These groups include the Suffolk and North East Essex Integrated Care System, Suffolk Chief Officers Leadership Team (SCOLT), the Health and Wellbeing Board and the Scrutiny Committee at Suffolk County Council.
In short, we have been urging the big organisations that have such an impact on all our lives to ask the question What Are We Missing?
The recently launched 2020 Suffolk Annual Public Health Report's focus on reducing inequalities is one example of how the system is starting to listen to the concerns of our traditionally seldom heard communities.
The initial responses have been very, very encouraging. We hosted a range of 'game-changing' events where local people from various minority ethnic backgrounds expressed concerns as to the lack of clarity of the government guidance about lockdowns.
As a result, we have been using trusted community champions to deliver messages in different languages about national and local guidance and available support services.
We have also been providing a signposting service to various translated messages from local and national organisations via our website and newsletter.
But for 2021, our ambitions to address unequal treatment and outcomes are even greater.
Central to these plans, ISCRE is coordinating a group of community leaders to write a BAME Strategy which will be used to influence how services are commissioned and delivered in Suffolk in future.
To help pull all of this work together, I'm delighted to report that we have appointed Siobhan Kranjanasilp to the role of BAME integration and partnership coordinator. Siobhan will also help to inform our service providers, especially the Clinical Commissioning Groups on the needs of our minority ethnic communities.
So whilst the challenges of 2020 were enormous, there is real hope that 2021 might be a more equal year.
This article featured in the East Anglian Daily Times on 13 January 2021.