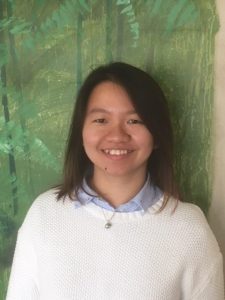 Esther: I want to be a good Criminal Lawyer and to fight for justice!
I've only been volunteering here at Suffolk Law Centre for about a month. I'm here because I have to complete my legal placement module as part of my Law degree at University of Essex, and my tutor recommended me to Suffolk Law Centre. I only actually have to complete another 20 hours of placement time, as I had another placement before, but was advised to find another one in a legal setting that meets the course requirements. However, I promised Audrey that I would complete 120 hours here, so I'll be here for a while longer than that!
I'm in the final year of my degree, and I want to specialise in Criminal Law. I want to join the Crown Prosecution Service, if I can. I know it's competitive, and that it can be challenging, particularly for women – I don't think there are as many women doing criminal law, as other areas, like contract law.
In Malaysia, where I'm from, we don't have a fair legal system, so people often use bribery and corruption, pay money under the table, to get round the law. This has inspired me to succeed in criminal law. My country needs a good criminal lawyer – I want to try and be that person! People often want to do the easy jobs, but I want to try to be the person who tried something different and who will fight for justice!
As a volunteer at Suffolk Law Centre, I sit in meetings with clients, upload client files to our systems, prepare letterheads, and look at case studies to identify the issue and prepare the documents. I most enjoy and learn the most from, analysing cases to identify the legal issue. This is good legal practice for us students. I love to analyse things and enjoy getting the best outcome.
In my spare time, I am planning on learning Thai Boxing, or kick boxing, and spending more time exercising. But I have to wait until after my exams are over! Right now, I often study until 3 or 4 o'clock in the morning. But, I am looking forward to be able to start exercising again and to have more time to improve my English – this is so important if I want to be a good lawyer.