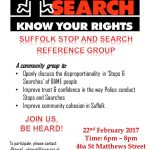 The reference group brings together members of Suffolk's Black, Asian and Minority Ethnic community and the Suffolk Constabulary to discuss incidents of disproportional use of Police stop and search powers and the resultant effect on community cohesion.
The Stop and Search Reference Group was one of recommendations from the ISCRE's research conducted to unpick the issues contributing to the paradox that sees more Black and Minority Ethnic people being stopped and searched than white people in Ipswich.
The stop and search reference group was set up with the primary purpose of improving the trust and confidence of BME (Black and Minority Ethnic) communities in the way the police conduct stop/search and encounters by openly discussing the issues and holding individual officers accountable
for their actions. Its role includes:
Scrutinising district performance in relation to stop/search particularly stops of people from BME backgrounds
Examining forms completed in relation to people from BME backgrounds to ensure that the searches have been carried out in accordance with Code A of the Code of practice
Discussing stop search cases brought to ISCRE's attention via its community reporting facilities
Monitoring the impact of the use of stop/searches and encounters in the community and on Suffolk Constabulary
Contributing to Suffolk Constabulary's stop search policy, procedure and training
Reporting to the Diversity Programme Board
Reporting to Suffolk Constabulary's Stop and Search Improvement Partnership
The reference group is chaired by a member of the BME community and it is made up of other interested members of the community, ISCRE, Suffolk Police Authority member(s), Independent Advisory Group (IAG) member(s) and Suffolk Constabulary: Area commander(s) / representative, Diversity Manager/Diversity Officer, Black Police Association (BPA) representative and Officers/Supervisors from different areas of Suffolk.
The reference group meetings are held bi- monthly in different parts of Suffolk at 46a St Matthews Street, Ipswich, IP1 3EP.
Subscribe to our Stop and Search Newsletter for the latest information.